Home
Welcome to New Angle Images.
We specialize in high resolution Aerial Photography and Video. Using SUAS and our pole mounted cameras we can bring a new angle to your Real Estate listing or business advertising. High resolution stills, video, and Orthomosaic data are all possible to meet your needs.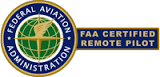 Our pilots are
FAA Licensed Remote Pilots in accordance with 14CFR Part 107 and our operations are insured. We have a Daylight Operation Waiver (107.29 FAA COW 107W-2016-00811) and can perform night operations.
Let us show you life from a new angle.